Scenic Train Rides In Pennsylvania
|
Find Your Perfect Train Ride in Pennsylvania Today
Pennsylvania is home to one of the nations oldest and most historic railroads, the Strasburg Rail Road, that began as a tourist line in 1959.
There are several excellent scenic rail excursions in Pennsylvania. The New Hope & Ivyland Railroad operates a 1925 steam locomotive dinner train and departs from a restored 1891 Victorian station. The West Chester Railroad operates holiday and special theme scenic train rides. The Tioga Central Railroad operates weekend scenic excursions during the summer in open air cars. The Oil Creek & Titusville Railroad operates special excursions with biking and canoeing opportunities. The Steam Town Historic Site operates several scenic rail excursions along with one of the nations most complete railroad history museums at the former Delaware Lackawanna & Western railroad shop complex. The Middletown & Hummelstown Railroad scenic trains ride run from Memorial Day through October.
Did you know?
Pennsylvania has over 140 steam locomotives in various conditions with the majority being either stored or on display. Reading & Northern 4-6-2 #425 runs occasional excursions and the ex-GW 2-10-0 #90 pulls scenic steam train rides on the Strasburg Rail Road. The Williams Grove Historical Steam Engine Assoc offers a Locomotive Engineer Experience with a choice of either diesel or steam locomotives. Union Pacific Big Boy No. 4012 is on display at the Steamtown National Historic Site. Steamtown also offers cab rides on most days that the "Scranton Limited" train rides are running.
Lehigh Gorge Scenic Railway travels over the former Lehigh Valley Railroad tracks and the newest steam locomotive, the Northern Central Railway 4-4-0 "York", is a faithful replica of the Civil War locomotive that carried Abraham Lincoln to deliver his Gettysburg Address and is operated today by Steam into History.
The Keystone state is noted for hosting some of America's most famous railways, including those that can be found on the classic board game, Monopoly. These railroads included the PRR, B&O, and the Reading. Along with the NYC, Erie, Bessemer, Delaware & Hudson, Lackawanna and Lehigh Valley Railroad, these railroads formed the foundation for American rail transportation in the early 1900's. Along with it's 50 short lines and tourist railroads, the state ranks as one of the top 3 for railroading. Pennsylvania was also home to the Baldwin Locomotive Works, that began building steam locomotives in the 1830s and America's first tourist railroad, the former Mauch Chuck Switchback, that began as a coal hauler at Jim Thorpe.
Pennsylvania has both the first and the oldest all-iron railroad bridge still in service. The Richard Osbourne's Manayunk Bridge used on the Philadelphia and Reading Railroad line, predecessor of the Reading Co. Railroad, was built about 1845. (One of its cast and wrought iron trusses is on display at the Smithsonian Institution in Washington, D.C.) The Reading Railroad's Hall's Station Bridge, also built by Osbourne, was erected in 1846 and today stands as the the oldest iron railroad bridge still in use today, connecting a private farm to a branch of the former Reading. GE diesel electric locomotives are manufactured today in Erie.
Altoona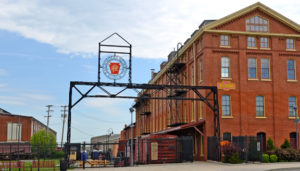 Located near the famous Pennsylvania Railroad Horseshoe Curve, the Altoona Railroaders Memorial Museum houses railroading artifacts and is dedicated to revealing, interpreting, commemorating and celebrating the significant contributions of railroaders and their families to American life and industry. Directions
Ashland
The Pioneer Tunnel Coal Mine & Steam Train runs a scenic train rides along Mahanoy Mountain. Steam power features a narrow gauge 0-4-0T, the 1927 Henry Clay steam locomotive, and includes tours of the Mammoth Stripping . Directions.

Bellefonte
The Bellefonte Historical Railroad Society runs a 60 mile scenic trainride over the Nittany & Bald Eagle Railroad.. Restored 1888 station houses museum with historical railroad memorabilia. Look for Fall and Santa Express train rides in season.
Boyertown
Starting in 1865, the Colebrookdale Railroad began construction of the line between Boyertown and Pottstown with train service beginning in 1869. The 9 mile route was nicknamed the "Secret Valley Line". Today, two-hour round trip excursion trains wind their way along the Manatawny Creek through woodlands and over historic bridges as they chug through Pine Forge and into West Pottsgrove Township. Passengers depart and arrive from Boyertown, traveling aboard vintage 1920s open-window coaches, a caboose, and the Secret Valley Explorer Open Car. Directions
Gettysburg
Pioneer Lines Scenic Railway
Pioneer Lines Scenic Railway operates scenic train rides through portions of the Civil War battlefield and the Pennsylvania countryside. Other excursions include the Gettysburg Ghost Train, a Murder Mystery Train, an Evening Paradise Dinner Train and a Santa Train train ride. The Cornell family uses its privately-owned trains for tours through the surrounding countryside, including the Gettysburg battlefield. Web site is longer available and phone has been disconnected.
Harrisburg
National Railway Historical Society (NRHS) – Harrisburg Chapter. On display: GG1 #4859 is an ex-PRR electric locomotive built in the Juniata Locomotive Shop (Altoona, PA) in 1937. It was the first electric locomotive to arrive in Harrisburg. Also, N6b #980016,an ex-PRR wooden offset-cupola cabin car that was built June 1920.
Hollidaysburg
Newly restored Everett Railroad 2-6-0 Number 11 operates round trip train rides from Hollidaysburg to Brookes Mill. Ride behind the 1920 "Mogul" type number 11 aboard former-Delaware Lackawanna & Western (DL&W) Multiple-Unit (MU) cars that have been converted to coaches while enjoying the beautiful countryside of central Pennsylvania. Excursions include Fall foliage theme train rides and Santa Express Steam train rides beginning in late November and running through late December.
Jim Thorpe
The Lehigh Gorge Scenic Railway travels over the former Lehigh Valley Railroad. This 16 mile scenic train ride now travels through some of Pennsylvania's most scenic landscape. Originating from "the Little Switzerland of America", this one hour excursion train ride crosses the Lehigh River several times as you travel aboard vintage 1920s open air coaches.
Scenic train rides on the Reading, Blue Mountain & Northern Railroad vary and have several departure points. The newly-rebuilt steam locomotive Reading & Northern No. 425, a 1928 Baldwin 4-6-2, is also used on occasion on the Lehigh Gorge Scenic Railway. See schedule for details.
Kempton
Weekend train rides from May through October. The Wanamake, Kempton & Southern offers special events throughout the season including the popular December season finale Santa Claus Special. Private charters, caboose rentals also available. Directions.

Mechanicsburg
The WGHSEA runs steam locomotive rides from April through September. Want to ride in a steam locomotive? The Williams Grove Historical Steam Engine Association also offers the opportunity for you to run their former Pennsylvania Railroad 0-6-0, #643. Built in 1901 in the PRR's own shops in Altoona, PA., No.643 has been a favorite at Williams Grove since 1961. Qualified locomotive crew will teach you the basics of how to operate a locomotive, and then you will take her out on their mile of track! Slots are available in 30 minute increments.
Middletown
Relax and enjoy an 11 mile, 1 hour and 15 minute, train ride aboard the Middletown & Hummelstown Railroad along the Swatara Creek, while learning about the history of the area. Passengers travel aboard 1920's vintage Delaware, Lackawanna & Western Railroad coaches that depart from a 1891 Freight Station in Middletown, Pennsylvania. Directions
New Freedom
Steam into History operates the Northern Central Railway 4-4-0 "York" steam train and chronicles the role York County, PA., played during the Civil War. In November of 1863, Abraham Lincoln traveled on the Northern Central on his way to deliver his Gettysburg Address, changing trains in Hanover Junction, PA. After Lincoln's assassination in 1865, his body was transported via the same rails on the funeral train's journey from Washington, D.C., to Springfield, Illinois.
New Hope
Ride aboard vintage 1920s coaches on the New Hope & Ivy Railroad scenic train, pulled by either a 1925 Baldwin 2-8-0 steam locomotive, No. 40, or a diesel locomotive through Bucks county. Departure on New Hope & Ivy Railroad is from a restored 1891 Victorian station. Directions
Orbisonia
A National Historic Landmark, the East Broad Top Railroad is a narrow gauge scenic excursion steam train ride that operates a combination of antique wooded coaches and open air flat cars built in the 1920s. The four and a half mile excursions run weekends from June through October. Steam train rides are pulled by a BLW 1914 2-8-2 Mikado. 2012: East Broad Top Railroad officially announced that it will no longer be operating steam powered excursions.
Robertsdale
Friends of the East Broad Top Railroad Museum is located at the railroad's original southern most operating terminus. Museum is open first and third weekends May through September. The East Broad Top Railroad Museum in Robertsdale is located in the former EBT Robertsdale depot and contains a priceless collection of artifacts from the railroad's common carrier era.
Scranton
Relive the golden age of steam railroading with the "Live Steam" experience. Steamtown National Historic Site operates the Canadian Pacific 4-6-2 #2317 steam locomotive, built in 1923 for passenger service and the 1917 Canadian National 2-8-2, No. 3254 that pull excursion trains through the woodlands of Northeastern Pennsylvania. Museum complex includes visitors center, theater, history museum, round house and technology museum. Steamtown scenic train rides include a short excursion aboard vintage commuter coaches on the Scranton Limited. Locomotive cab rides are also available. Displays include the only Union Pacific Big Boy No. 4012, that is exhibited in the eastern US. Directions
Update 2014: Steamtown NHS is not currently operating mainline steam locomotives. CN #2317 is currently out of service for repairs and a 1,472 day FRA (Federal Railroad Administration) mandated inspection along with CN #3254.
Strasburg
Traveling aboard the Strasburg Rail Road is like traveling back in time when you arrive at the oldest railroad company in the America. The historic Strasburg Rail Road's nine mile steam train ride runs though Amish farmland and features several different travel accommodations, including fully restored open air coaches, a deluxe lounge car and a first class parlor coach. Steam train rides are powered by either ex-N&W M Class 4-8-0 475 or the ex-GW 2-10-0 #90. Special excursions include a Wine & Cheese, Dinner & Murder Mystery Trains. Check schedule for "Day Out with Thomas" trains as well. The Strasburg Rail Road was listed in Parade Magazine's top ten "Unforgettable Day Trips by Rail".
Located across the street from the Strasburg Railroad, the Railroad Museum of Pennsylvania has an extensive world-class collection of former Pennsylvania Railroad locomotives, cars and artifacts. Among the restored locomotives on display, the PRR"s No. 460, 1914 built Atlantic Class 4-4-2, known as the Lindbergh Engine and the 1920 Pacific Class 4-6-2, No 3750. Also on display is PRR class GG-1 2-C+C-2 electric #4935 and "Old Rivets", the original 1935 PRR GG1 #4800. Museum features over 40 different pieces of locomotive power along with an extensive model train layout used to allow youngsters to learn how real trains are assembled, routed to their destinations, and serviced.
Titusville
A two and a half hour scenic train ride aboard the Oil Creek & Titusville Railroad runs thought the Oil Creek State Park. Departure is from an 1892 – vintage freight station. Bicyclists and canoeist welcomed, as they will drop you off along the route. Fall Foliage, the Santa Train ride and Murder Mystery Dinner excursions are very popular. Directions
Uniontown
Fayette Central railroad runs weekend themed excursions train rides that include Easter Bunny, Pumpkin Patch, Fall Foliage and Santa Claus trains through the foothills of the Laural Mountains.
Due to increased traffic on the SWP the Fayette Central Railroad discontinued operating after 2012.
Wellsboro
The Tioga Central Railroad of Wellsboro, Pennsylvania operates excursion and charter train rides on a thirty-four mile, 90 minute, railroad extending north from Wellsboro, Pennsylvania to a location about three miles south of Corning, New York. Scenic train rides run weekends from Memorial Day through October. Excursions include All American BBQ Dinner Train, Sunset Special, Fall Foliage Express, Fireworks Special, and The Lake Shore Twilight. Directions
West Chester
The West Chester Railroad runs nostalgic 90 minute scenic, round trip, train rides between Market Street in West Chester, Chester County and the village of Glen Mills, Delaware County, Pennsylvania.Directions.