Scenic Train Rides in California
|
Find your Perfect Train Ride in California Today
The California State Railroad Museum, in Sacramento is among the finest interpretive railroad museums in the country. The museum operates Polar Express train rides during the month of December.
The "Home of the Movie Trains", the Fillmore & Western Railway operates a well-run combination of weekend scenic excursions and special trains.
For luxury excursions, excellent accommodations can be found at either Rail Journeys West or LARails in Los Angeles.
The Napa Valley Wine Train offers up gourmet dining with impeccable service. The Sacramento River Train serves up food, drinks and entertainment.
For some real Southern Pacific steam action in the Bay area, the Pacific Locomotive Association runs special steam locomotive excursions on the Niles Canyon Railway throughout the year. A Hollywood favorite and the third oldest railroad in North America, the Sierra Railroad Dinner Train offers a variety of different excursions. Along with steam locomotives made famous in Hollywood, Railtown 1897 operates an Old West steam train rides and the museum offers a weekly behind the scenes look at the Historic Jamestown Shops and Roundhouse.
Santa Cruz, Big Trees & Pacific Railway Company runs scenic excursion tourist trains between Felton and the Santa Cruz Beach Boardwalk on the Roaring Camp Railroad. Olde time 1880's vintage narrow-gauge steam train rides also operate on the Roaring Camp up Bear Mountain.
Ride a logging steam train over a 100 year old right-of-way through the Sierra National Forest on the Yosemite Mountain Sugar Pine Railroad at Fish Camp. The amazing Skunk Train rolls through a scenic wilderness filled with the giant California Redwoods year round.
Santa Fe 4-8-4 steam locomotive No.3751 runs scenic train excursions around the Los Angeles area and occasional excursions to the Grand Canyon.
Did you know?
California, known for it's incredible coastline and beautiful mountain scenery, also boasts of over 5800 miles of railroads. Dominated by two major networks, the Union Pacific and the BNSF Railway, California is also rich in the history and development of the west through it's railroads. Beginning with the Sacramento Valley Railroad in 1856, today California hosts many excellent scenic train rides and railroad museums.
Union Pacific Big Boy #4014 is no longer on display at the Rail Giants Historic Train Museum in Pomona. It is being moved to Cheyenne, Wyoming.
Listed as one of "America's Greatest Train Rides", Amtrak runs the classic California Zephyr and the Southwest Chief from LA to Chicago.
California has over 200 steam locomotives around the Golden State, with several operating narrow gauge Shay steam locomotives train rides.
Anaheim
Alpine
Descanso, Alpine & Pacific Railway
Scale train rides by appointment. PH. 619-445-4781
Barstow
Western American Railroad Museum provides outdoor displays of rolling stock, locomotives and general railroad operating equipment. Visitors have the opportunity to see, up close, railroad equipment normally viewed from a distance. Additional outdoor displays include maintenance of way, signaling and track equipment displayed in traditional context or interpretive manner. Directions
Bishop
The Laws Railroad Museum and Historic Site is housed in a 1883 depot and is operated by the Bishop Museum and Historical Society. Museum collection includes Southern Pacific steam locomotive No. 9 along with other rolling stock.
Buena Park
Knott's Berry Farm's 1880's Ghost Town Calico narrow gauge railroad train ride and theme park is a family favorite. Despite years of bandit hold-ups, this is one of the last year round attractions operating narrow gauge railroads that still departs daily from Ghost Town Station for a round-trip train ride around the Park. The roster includes two 2-8-0s, D&RGW 340 and RGS 41, both originally constructed for the Denver & Rio Grande in 1881. Directions
Campo
The Pacific Southwest Railway Museum runs excursions on many weekends on portions of the San Diego & Arizona Railway utilizing actual vintage equipment. One-hour, 12 mile round trip train ride from Campo to the International Border Tunnel at Division, which includes admission to Railway Museum grounds and Display Building at Campo. Directions.
Colma
1863 Southern Pacific passenger depot
Costa Mesa
Orange County Model Engineers Inc
Free scale train rides third weekend every month. Ph. 949-548-7246
Dunsmrui
Dinner house and lounge built inside restored antique railroad cars with a caboose motel and RV Campground. Spend the night in an authentic refurbished Caboose while visiting Northern California. Directions
Eureka
Logging railroad museum
Felton
Roaring Camp Railroad's 1880s narrow-gauge steam train rides travel over trestles, through towering redwood groves and up a winding narrow-gauge grade to the summit of Bear Mountain. Four steam locomotives are Shay or similar designs, including an 1890 built 0-4-0T. One hour round trip. Direction
Fillmore
The Fillmore & Western Railway is the home of Hollywood movie trains and scenic train rides that include a Murder Mystery Dinner Train. The Fillmore & Western Railway offers several year round special themed train excursions, including holiday excursions, such as a Dinner with Santa train ride and a New Years Eve train ride. Daytime weekend locomotive cab rides are also available.
Fish Camp
The Moonlight Special features a delicious New York Steak BBQ dinner and the Yosemite Mountain Sugar Pine Railroad features two vintage Shay steam locomotives that run a 4-mile scenic steam train rides at Yosemite Park's south gate. As you travel through the Sierra Mountains, you will follow the route of former logging steam trains that operated until 1931. Directions
Folsom
The Folsom Valley Railway operates one of two scale authentic miniature steam engines on a 4/5 mile of track. The open car round trip ride lasts approximately 10 minutes.
Fort Bragg
Climb aboard California's Skunk Train and enjoy a steam train ride that travels through the scenic wilderness of the giant California Redwood trees. You have a choice of boarding at either Fort Bragg or Willits. Train rides run year round.and include a special Christmas train ride with Santa. Steam powered train rides are provided by one of the most popular American class locomotives, the 1924 California & Western Railroad No 24, a Mikado type 2-8-2. Model railroad train exhibit.
Fremont
The Pacific Locomotive Association, Inc. operates the Niles Canyon Railway as a living history museum interpreting the importance of our heritage railroads in the development of California and the nation. Museum includes early 20th century steam tank engines, a shay, Southern Pacific 2-6-0 #2467, various coaches and rolling stock. Scenic steam train rides run on Sundays during most months and the Niles Canyon Railway also offers a rent a train ride program. Boarding for the Niles Canyon Railway can be made at either the Niles Station in Fremont or the Sunol Depot in Sunol.
Goleta
The museum centerpiece is the historic Goleta Depot, a 1901 Southern Pacific Railroad country train-station building, which is listed on the National Register of Historic Places.
Jamestown
Railtown 1897 Historical Park offers a 6-mile, 40-minute round-trip steam excursion train ride that will take you past the water tower from Petticoat Junction and transport you from the backyards of Jamestown to the rugged hillsides of California's Mother Lode country. At the end of the line (Rock Spur), your steam train will pause as the locomotive uncouples, "runs around" your train on a side track, then re-couples at the train's opposite end for the return trip to Jamestown. Train rides feature comfortable enclosed coaches and (subject to availability) unique, open "mountain observation cars" once used in the Canadian Rockies for sightseeing. The Sierra Ten-Wheeler No.3 came to the California Sierra Railroad in 1891. It is most noted for it's appearance in such Hollywood movies as Gary Cooper's 1929 Virginian and High Noon, as well as Clint Eastwood's Unforgiven and from the Michael J. Fox trilogy, Back to the Future III. The Sierra Ten-Wheeler No.3 was returned back to service after an extensive restoration in 2010.
Lomita
Built in 1966, the Lomita Railroad Museum is adjacent to a railroad themed park dedicated to the proud era of the steam engines. Displays include a Southern Pacific Railroad Steam Locomotive, a Mogul 2-6-0 #1765 (1902-1960) and Tender. Other displays include a 1910 Union Pacific Caboose and a modern all-steel Santa Fe caboose. Also on display are a 1923 Union Oil tank car and a 1913 Southern Pacific outside-braced wood box car.
Los Angeles
LARail is home to a number of unique vintage rail cars from the 40's & 50's. Through the hard work of individual owners these cars have been beautifully restored to accommodate luxury charters for groups from 10-100. Check schedule for public train rides.
Travel Town Museum displays include two Consolidations type 2-6-0 steam locomotives from 1899 and 1909, a 1920 Mikado 2-8-2, a 1904 Atlantic 4-4-2, along with several other locomotives and rolling stock.
The Los Angeles Live Steamers Railroad Museum runs scale train rides and displays of extensive 4¾" and 3½" gauge model trains layouts. The 7½" gauge model trains offer train rides for both kids and adults, from 11 am – 3 pm every Sunday (weather permitting) except for the Sunday before Memorial Day and the first Sunday in October. Directions
Los Gatos
The Billy Jones Wildcat Railroad is a scale train ride in theme park. Directions.
McCloud
Shasta Sunset Dinner Train
McCloud railway 2-6-2 was sold to Oregon Coast Scenic Railway. Shasta Sunset is no longer operating.
Napa
The Napa Valley Wine Train begins its three hour train ride at the McKinstry Street Station in Napa. The Napa train then travels north to St. Helena, where the locomotive disconnects from the north facing side of the train and re-connects to the south facing side of the train in preparation for the return journey. Ride along in elegant style while enjoying gourmet food and a glass of wine.
National City
Restored 1882 Santa Fe Railroad depot museum.
Nevada City
The Nevada Co Narrow Gauge Railroad & Transportation Museum is dedicated to the preservation of the 1876 mining Nevada County Narrow Gauge Railroad. Originally, a twenty-two and a half mile route that began in Nevada City, traveled to the railroad's headquarters in Grass Valley, and then on to Colfax for connections to the Central Pacific.
Oakdale
The Sierra Railroad was formed in 1897 to connect the Central Valley to the Gold County and is the third oldest railroad in North America. Known as "the Movie Railroad" it has been featured in over 300 motion pictures, television programs and commercials. The Sierra Railroad Dinner Train provides visitors an opportunity to travel on the historic Sierra Railroad while enjoying a delicious meal, beautiful countryside, and a wide range of entertainment.
Every week of the year, the Dinner Train ride offers romantic dinners, fun murder mysteries, lunches, Sunday brunches, wild west shows, wine tasting, and much more. Train rides depart from the Oakdale station that is conveniently located 1+ hours from the San Francisco Bay Area or Sacramento, on the way toward Yosemite National Park.
Orange
Irvine Park Railroad is a 1/3 scale train ride through beautiful and historic Irvine Regional Park located in the foothills of Orange. This ride is ideal for everyday outings, picnics and birthday parties. Irvine Park Railroad offers several activities and special events year round. Directions.
Perris
Begun in 1956, the Orange Empire Railway Museum operates a Museum Railway where visitors can ride on the historic trains and trolleys that helped shape the Southern California we know today. Two trolleys run on a half-mile loop line, while the Grizzly Flats Railroad operates a vintage Mogul-type steam locomotive, the VC 2, on the mile and a half narrow gauge line, pulling either freight or passengers. Train rides are either a caboose or an open gondola car. The Museum Railway operates every weekend and on most major holidays from 11 a.m. to 5 p.m., and also on weekdays for charters and other special events. The museum grounds are open every day from 9 a.m. to 5 p.m. with the exception of Thanksgiving and Christmas. Cab rides and locomotive rentals as well as a Day Out With Thomas are also available. Directions.
Point Richmond
Model train layouts. The museum is open and model trains are running every Sunday from Noon-5pm during the months of April through December. Directions.
Pomona
Railway and Locomotive Historical Society is housed in a Santa Fe depot from Arcadia, Ca. that was built in 1895 and is a classic example of the architecture of the late 1880's. Also on display are several distinguished locomotives including the 4-6-4 high speed passenger locomotive, Santa Fe No.3450, capable of running 100 mph. Rail Giants Historic Train Museum was also the home to the original Big Boy, represented by Union Pacific Big Boy 4-8-8-4, No. 4014, one of the last 8 surviving largest steam locomotives ever built. Additional locomotive power includes the three-cylinder 4-12-2, UP 9000, and an EMD Centennial, UP 6915, one of the most powerful diesels in existence. The Southern Pacific is represented by a three-cylinder 4-10-2, SP No.5021, built in 1926. Other notable locomotives on display include the Outer Harbor Terminal Railway 0-6-0 No.2, built in 1887, the Fruit Growers Supply Company's Climax type locomotive No.3, built in 1909, and the U.S. Potash Company's narrow gauge No.3, from 1903. A Santa Fe horse express car, a Pullman business class car, an ice refrigerator car, a wooden Santa Fe caboose and a track motor car are also on preserved.
Portola
The Western Pacific Railroad Museum has over 35 locomotives and 80 cars of various types, including Western Pacific No. 165, a 0-6-0 switching steam locomotive, built in 1919.
Unlike many other museums, visitors to the Western Pacific Railroad Museum soon discover that this is a hands-on facility where they are encouraged to climb up in the cabs of locomotives, sit in the engineer's seats, and browse through the many cabooses and passenger cars that are on display. It is also home to the World Famous "Run-A-Locomotive" program. Museum is open 7 days a week 10am – 5pm starting the first Saturday in April through the first Sunday in November.
Poway
The Poway Midland Railroad is a theme-park train ride. Rolling stock includes an operational 1907, Baldwin 0-4-0 steam engine and restored 1894 LA trolley. Directions
Riverside
Riverside Live steamers run several miniature steam train rides.
Sacramento
California State Railroad Museum train rides operate on a 40-minute, six-mile round trip route atop the levees of the Sacramento River. At the end of the line, the authentic steam locomotive "cuts off" the passenger cars and "runs around" the train, coupling onto the other end for the train ride back to Old Sacramento. Steam train  rides run weekends April-September. Special themed excursion train rides run October – December that include the magical Polar Express train ride in December. The California State Railroad Museum is reguarded as one of the most popular railroad museums in the country.
The Sacramento Valley Live Steamers Railroad Museum is located within the Hagan Community Park in Rancho Cordova, California.  The main line is over 6,300 ft. with many sidings and several yards. The scenic train passes through tree'd areas, and provides a fine view of the American River which passes within 100 ft. of the railroad. The railroad also features 5 wooden trestles, a 40 ft truss bridge as well as a girder deck bridge. The track is 7 1/2″ and 4 3/4″ gauge. Directions
San Bernardino
The San Berardino Railroad Historical Society is home to the Santa Fe steam engine, No. 3751, a Northern class 4-8-4.
San Diego
At 27,000 sq. ft., the San Diego Model Railroad Museum has one the largest indoor model railroad displays in the world and the only accredited railroad themed museum in USA. The individual HO and N scale layouts are among largest of their type. Construction of the model railroads is accomplished by volunteer club members.
San Francisco
San Jose
The Trolley Barn replicates similar buildings of the 19th century trolley era, and was designed to reflect the same period of time as other buildings on the San Jose Historical Museum grounds. Trolley restoration projects continue at the Trolley Barn. Current restoration projects include Southern Pacific steam engine #2479 and Southern Pacific Railroad 0-6-0 steam locomotive #1215 built by the Baldwin Locomotive Works in 1913. The Trolley Barn has become a permanent part of the museum. The Trolley Barn is located at the San Jose Historical Museum in Kelley Park.
San Pedro
The mile and a half trolley line connects San Pedro's cruise ship terminal with other attractions along the waterfront. Directions
Santa Clara
Rail Journeys West offers a comprehensive listing for luxury scenic excursion train rides though out the Pacific West coast and Canada.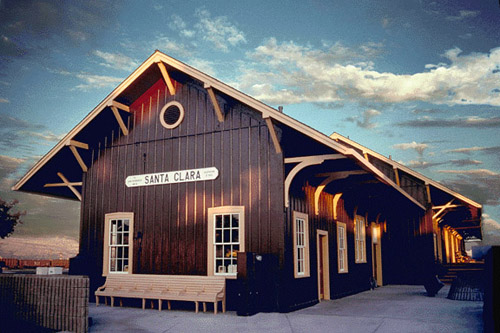 A large and varied collection of historic railroad artifacts are on display. The Depot displays includes two operational HO and N scale model railroad layout displays depicting various railroad eras and operations venues. Directions.
Santa Cruz
The Santa Cruz & Monterey Railway operates passenger and freight services on one of the oldest and most historic lines in California. Three hour round trip scenic train rides run from Santa Cruz through Redwood State Park.
Suisun City
Take a trip back in time takes on a scenic five-mile train ride to Gum Grove Station, a wooded glen far from the trappings of modern life. Western Railway Museum is a family oriented museum offering themed festival events that include electric express train rides with departures throughout the day. Visit site for current schedule of events. Directions
Sunol
Niles Canyon Railway is a nonprofit organization dedicated to the preservation of steam and passenger railroad equipment, and the interpretation of railroad history in the San Francisco Bay Area. Home to the 1921 Southern Pacific steam locomotive, No. 2472, one of only 3 surviving Pacific class SP 4-6-2s.
For additional information on scheduled train rides, go to the Golden Gate Railroad Museum for holiday theme steam train rides.
Tehachapi
The Tehachapi Depot Museum is open to the public Thursday through Monday. It is one of the few remaining Southern Pacific depots left, and it is listed on the National Register of Historic Places.
Truckee
The Truckee Railroad Museum uses railroad artifacts, dioramas, pictures and text displays to convey the impact of various types of railroads on Truckee. Static rolling stock include a GE center cab switcher, a rotary snow plow and a 1950 Southern Pacific passenger car.
Thousand Oaks
Barn workshop used to build and maintain Walt Disney's Carolwood Pacific Railroad. The Carolwood Barn is in a beautifully landscaped part of the park, with several nice picnic tables and many benches. The barn was relocated to the Los Angeles Live Steamers at Griffith Park. The barn is open the third Sunday of each month, operated by the Carolwood Pacific Historical Society. Admission is free, and the Los Angeles Live Steamers are always on hand to give rides on small scale steam locomotives. Directions.
Tilden Regional Park
Redwood Valley Railway offers miniature steam train rides thru towering California redwoods. This a 15" gauge railroad is perched high above San Francisco Bay near Berkeley, California. All four of the railroad's oil-fired steam locomotives were built in the Redwood Valley shops. The railway was founded in 1952 by Western Pacific mechanical engineer Erich Thomsen. Directions
Woodland
Thirty-two mile Sacramento River Train excursion train ride provides great food and entertainment while you roll along the Sacramento River and through the scenic countryside. Daytime and evening train rides are offered throughout the year, as well as seasonal special events. Open-air cars offer an enjoyable dining experience.
Yermo
The Calico & Odessa Railroad is a narrow gauge train ride traveling around historic silver mining ghost town. Campsites also available.
Yreka Western Railroad
Fifteen mile scenic train ride over railway that was first established in 1889. The Yreka Western Railroad three hour round trip excursion train ride, with a stopover in Montague for lunch and exploring the "Old West" town,  provides scenic views of Mount Shasta and the Shasta Valley. Excursion train rides run Saturdays and Sundays. Take a ride on an engine with the "Engineer For a Day" program which  includes both steam and diesel locomotives. Depot includes some rail displays. Steam power is a 1915 Baldwin Mikado class steam locomotive #19, a 2-8-2 arrangement.
Update: Yreka Western Railroad was Listed For Sale at the end of 2011.