Scenic Train Rides in Nebraska
|
Find Your Perfect Train Ride in Nebraska Today
One of the most notable railroad museums in Nebraska is the Art Deco Durham Western Heritage Museum in Omaha featuring its beautiful art deco style along with railroad exhibits that include the 1890 4-6-0 UP steam locomotive No. 1243. The Omaha Zoo operates a narrow gauge 4-4-0 steam locomotive, No. 119.
Great train watching can be found at the Golden Spike Tower in North Plate.
Did you know?
The majority of the railroad traffic today in the Corn husker state still follows the original flow from east to west. The first railroad was authorized by the Pacific Railroad Act signed by Abraham Lincoln in 1862 and it commissioned the construction of the Transcontinental railroad.
Amtrak's California Zephyr serves Omaha and Lincoln. Total track mileage in Nebraska is over 3300 miles.
You will find 25 steam locomotives in Nebraska, with most of them on display in parks and museums around the state. Just south of downtown Omaha in Kenefick Park are two cosmetically restored Union Pacific locomotives, the 4-8-8-4 Alco Big Boy No. 4023, one of only 8 of the original 25 Union Pacific Big Boys remaining today, and the first EMD DDA40X Centennial diesel No. 6900. UP 4-6-6-4 Challenger No. 3977 is on display at the Cody Park Railroad Museum.
Fairbury
The 1914 Rock Island Depot Railroad Museum is located in one of the states only remaining RI depots. The depot's collection features Rock Island artifacts and a restored baggage room. A 7-1/4 inch scale railroad, called "The Little Blue Railroad" offers visitors train rides during the summer months and on special occasions. The museum also has a model railroad display.
Fremont
The Fremont & Elkhorn Valley Railroad is Nebraska's longest and largest operating tourist railroad. Scenic excursion train rides use diesel locomotives. The railroad operates on 17 miles of track from Fremont to Hooper, Nebraska. Originally founded in 1869 as the Fremont Elkhorn and Missouri Valley Railroad, the railroad follows the original route today and runs to Norfolk then across the northern part of Nebraska to Fort Robinson. UPDATE 2014: Railroad is no longer in operation.
Fremont Dinner Train
Choose from several themed train rides aboard the Fremont Dinner train that return to 1940's era music and scenery. Scenic theme train rides include the Fremont Murder Mystery Diner Train, melodramas, USO dinner shows, wine-tasting dinners, theme occasions, holiday runs, period movies. Experience a romantic 18 mile round trip dinner excursion train ride, while enjoying an interactive play and a five course diner.
The Fremont Dinner Train has moved to Baldwin City, Kansas.
Grand Island
The Stuhr Museum of the Prairie Pioneer is a interactive museum that recreates an 1890's railroad town that includes more than 60 restored buildings. Displays include the 1901 Union Pacific 2-8-0 steam engine No 437, the 1871 Bosselman Family, Hoch Family Union Pacific Boarding Car and the 1912 Ann and Dennis Vanosdall, Union Pacific Caboose.
Kearney
The Trails & Rails Museum is operated by the Buffalo County Historical Society and includes an 1898 Union Pacific depot. Open year-round, the displays include the 1903 Union Pacific 2-8-0 Baldwin steam engine, No 481, a UP flatcar, a caboose along with other railroad equipment.
North Platte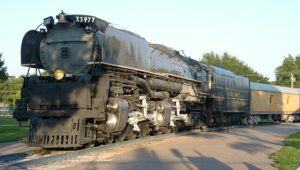 The Cody Park Railroad Museum has the only Challenger 3900 series steam locomotive on public display, accompanied by a 6900 series diesel locomotive. These two locomotives have a combined horsepower of more than 12,000! Also on display is Hershey Nebraska's fully restored railroad depot, several rail cars, and a caboose along with railroad memorabilia. Display includes Hershey Depot, UP Challenger #3977, UP DDA40X diesel #6922 an RPO baggage car, and a UP caboose, No. 25161. Displays are open from May 1 through September 30th, Open every day 10am – 7pm. Admission is Free.
Rail yard observation tower allowing visitors to get a birds-eye view of Bailey Yard. The Golden Spike Tower and Visitor Center opened in 2008. Covering a massive 2,800 acres, each day Bailey Yard manages 10,000 railroad cars. Of those, 3,000 are sorted daily to make sure the cargo reaches its final destination. You can see it all from the Golden Spike Tower and Visitor Center in North Platte.
Omaha
The Durham Museum, also known as the Durham Western Heritage Museum, is housed in the elegantly preserved Art Deco style interior of a former 1931 Union Pacific depot. Exhibits provide visitors with the rich history of Union Pacific's passenger depots in Omaha. Exhibits include the Union Pacific steam locomotive, No. 1243, several restored UP passenger cars, the Byron Reed Coin and Document Collection, The Trans-Mississippi Exposition Gallery, a teepee, an earth lodge and more. The Museum is an affiliate of the Smithsonian Institution. Directions
UP Big Boy 4023 and EMD DD40X Centennial 6900 are high on a bluff above in the freeway in Kenefick Park welcoming travelers entering Nebraska from Iowa on I-80.
Omaha Zoo Railroad (OZRR) operates a narrow gauge steam train that carries visitors around the Henry Doorly Zoo in Omaha, Nebraska. The train loads passengers at two stations within the world-class zoo. Trains operate daily from Memorial Day to Labor Day, and on weekends in April, May, September and October weather permitting. Directions