Scenic Train Rides in Tennessee
|
Find Your Perfect Train Ride in Tennessee Today
Scenic train rides in Tennessee include the southeast's largest operating scenic rail excursion, the Tennessee Valley Railroad. The TVRM offers special theme train rides including a Day Out with Thomas the Tank Engine. Look for first class service on the 180 mile round trip scenic train rides between Nashville and Cookeville during the fall on the Tennessee Central Railway. The Secret City Scenic Excursion Dinner train runs out of Oak Ridge and the Dollywood Express operates a theme park narrow gauge steam train ride.
Did you know?
The states first railroad was the Nashville & Chattanooga, chartered in 1845. For the Volunteer state's 2595 miles of Class I railroads, the Norfolk Southern Railway serves 850 route miles, while the CSX and the additional 18 short lines make up the rest.
There are over 30 steam locomotives listed in Tennessee today, including 4 that are operational, most notably the 2-8-0 Southern Railway #630, ex-Southern Railway 2-8-2 #4501 and the Three Rivers Rambler ex-Washington & Lincolnton 2-8-0 #203. Several are in storage or on display at various museums, including the TVRM. The original home of Casey Jones is at the Casey Jones Railroad Museum. The last surviving Nashville, Chattanooga & St. Louis 4-8-4, No. 576, is on display in Nashville's Centennial Park.
Amtrak's City of New Orleans makes daily stops at Memphis and the famous engineer Casey Jones is buried in Jackson, TN.
Cookeville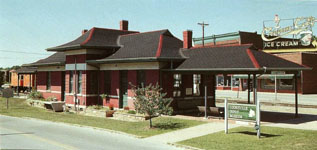 The Cookeville Depot museum displays the Middle Tennessee Railroad HO scale model train exhibit. Other exhibits include a renovated L&N Caboose, with the exhibit-"Working on the Railroad: The Right Tool for the Right Job." The "Rolling Wheels of Steel" exhibit focuses on the locomotives owned and operated by the Tennessee Central Railroad from the earliest steam engines to the massive diesels in use when the Tennessee Central went out of business. Admission is free.
Cowan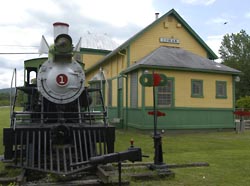 The Cowan Railroad Museum is housed in a restored century old depot with photos, relics and memorabilia from the age of steam locomotives. Various types of model trains on display. Outside in a wonderfully landscaped park setting is a complete full-size train headed up by a 1920 Porter steam locomotive of the rare Columbia wheel arrangement (2-4-2), a flat car and an authentic wooden NC&StL bay window caboose.
Chattanooga
No train ride here, but a unique vacation experience. While staying in Chattanooga, you can sleep aboard an authentic Victorian train car. Traveling across the nation by private railroad car was the height of luxury in the early 1900's. The railroading excitement of a bygone era is still alive on board any one of 48 beautifully restored Victorian train car hotel rooms at the Chattanooga Choo Choo Hotel complex. All train car hotel rooms accommodations offer modern conveniences including high speed wireless internet access. Each car includes a queen size bed. Some cars also have a daybed with a pull out trundle bed. The only thing missing from your night in a Victorian Train Car is the "clickety-clack" of the rails!
Lookout Mountain Incline Railway is known as America Most Amazing Mile. The Incline's trolley-style cars climb through the natural beauty surrounding historic Lookout Mountain at a breathtaking 72.7% grade straight up! In operation since 1895, the Incline is a National Historic site and Mechanical Engineering Landmark.The original coal-burning steam engines were replaced by two 100-horsepower motors in 1911, but other than that the railway hasn't changed very much in its more than 100 years of operation.
The largest operating railroad in the southeast, the Tennessee Valley Railroad Museum offers a variety of scenic train rides. Theme train rides include Valentine Dinner Trains, a Halloween Eerie Express, and a Father's Day Dinner Train and a North Pole Limited.
Limited steam power is provided by locomotive No.630, a Southern Railway 2-8-0, built in 1952. Six mile train rides depart from Grand Junction Station, run to East Chattanooga Depot and back. Additional steam power includes the recently rebuilt 1911 ex-Southern Railway 2-8-2 #4501. "American" 4-4-0 Central of Georgia #349 is on display.
The 100 mile Autumn Leaf Special also includes a sit down lunch. Daily all-day train rides include trips to Summerville, Georgia or the beautiful Hiwassee River Gorge. During the magical holiday season, trains take riders on an imaginary journey to the North Pole. Directions.
Jackson

The Casey Jones Railroad Museum features the original home of Casey Jones that was built in the 1800's along with a railroad museum and a train station. Museum guests walk onto a platform as they exit the back door of the Train Station as if to board a train in 1900 and are able to climb into the cab of a 130 ton locomotive engine very similar to Ole #382 that Casey Jones rode to fame. Collection also includes a baggage car and caboose. Directions.
Knoxville
The Three Rivers Rambler is a ninety minute round trip train ride aboard vintage cars headed by the restored 1923 Baldwin 2-8-0 Consolidation steam locomotive ex-Washington & Lincolnton #203. Three Rivers Rambler scenic excursion train rides include an Autumn & Pumpkin Express and a Christmas Express train ride. Three Rivers Rambler also operates Southern Railway 2-8-0 No. 154. Charters are also available. Directions
Nashville
This Nashville facility is home to a unique collection of historic railway equipment. The Tennessee Central Railway museum also operates scenic train rides to a variety of destinations in middle Tennessee, providing a unique opportunity for everyone to experience the joys of rail travel. Excursion train rides are typically pulled by vintage former NYC F7 and E8 diesel locomotives. A typical scenic train ride will accommodate approximately 400 passengers, riding comfortably in air-conditioned streamlined stainless steel equipment. The museum's buffet lounge car has facilities for preparing everything from snacks to complete meals. The slumber coach contains private sleeping accommodations for up to 42 people on overnight trips. Excursion train ride themes include Murder Mystery, Super Fall Foliage Trip, and North Pole Express. Also available is a Day out with Thomas the Tank Engine. Directions.
Oak Ridge
The Southern Appalachia Railway Museum's Secret City Scenic Excursion Train generally runs on the first and third Saturday of each month from April-September. October, November and December trains runs on Saturdays and Sundays of selected weekends. Ride this 14 mile scenic train ride aboard an air conditioned 1940's era restored passenger and dining car. Located in the birthplace of the atomic age, the Secret City scenic trains normally run at 11am, 1pm, and 3pm on Saturdays, and 1pm and 3pm on Sundays. Also available, a catered two hour Dinner Train ride in a fully restored 1950's vintage diner car that offers a romantic setting. Excursion trains are typically pulled by vintage F7 and E8 diesel locomotives.
UPDATE 2016: Secret City Scenic excursion operations have been suspended do to liability concerns.
The Southern Appalachia Railway Museum is a non-profit organization dedicated to the preservation, restoration, and operation of historical railroad equipment,and the preservation of the railroad history of the Southern Appalachia Region.
Pigeon Forge
The Dollywood Express is a theme park train ride that features an authentic 110-ton coal-fired steam engine that takes you on a breathtaking five-mile journey through the foothills of the Great Smoky Mountains where you'll enjoy pastoral scenery and some of the most beautiful views that nature has to offer. Close your eyes and enjoy a fascinating trip back in time when travel in and out of the mountains of Pigeon Forge relied on trains like the Dollywood Express. Dollywood Park runs 2 three foot narrow gauge steam engines, former White Pass & Yukon 2-8-2's, a 1939 BLW built No.70 and a 1943 Baldwin Works No.192. Dollywood Express train rides run April through December. Directions